Wastewater monitoring is a passive and efficient way to monitor the spread of infectious diseases in large populations and high-transmission areas such as preK-12 schools. 
Infections caused by respiratory viruses in school-aged children are likely underreported, particularly because many children may be asymptomatic or mildly symptomatic. Wastewater monitoring of SARS-CoV-2 has been studied extensively and primarily by sampling at centralized wastewater treatment plants, and there are limited studies on SARS-CoV-2 in preK-12 school wastewater.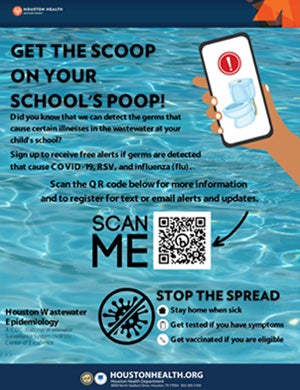 Similarly, wastewater detections of influenza have only been reported in wastewater treatment plants and university manhole samples. Research published online on January 20, 2023, in Water Research presents the results of a 17-month wastewater monitoring program for SARS-CoV-2 (n = 2176 samples) and influenza A and B (n = 1217 samples) in 51 preK-12 schools. 
Get the scoop on your school's poop!
A pilot Wastewater Alert Program for the Houston Independent School District (HISD) will send time-sensitive text or email messages from Houston Health Department about COVID-19, influenza A/B, and RSV viral levels detected at local school campuses. For a list of schools in the pilot program visit https://member.everbridge.net/745610617552897/faq.
As part of the local public health response, the Houston Health Department has a speaker request form for information or other guidance from the department on the novel Coronavirus (COVID-19) and emerging diseases.
Video to Houston Area School Districts
Houston's Health Authority Dr. David Persse explains the benefits of the school district participating in the COVID-19 wastewater program.
To learn more:  visit the Houston Health Department COVID-19 Services and Resources webpage.